Food, inspection, packaging, and kitchen equipment
Products related to food, inspection, packing, and kitchen equipment
Dashers, transport equipment, filling equipment, weighing machines, foreign object selectors, packing machines, etc. used in food factories. Kitchen equipment and utensils.
Examples of the products we deal in
In addition to the above, we are ready to make proposals on various kinds of Japanese products according to your inquiries.
Super Vacuum Packer
The Japanese-made, small-sized vacuum packers are long-lived and of high performance; it also simplify the operations.
They can vacuum-pack liquid or warm substances.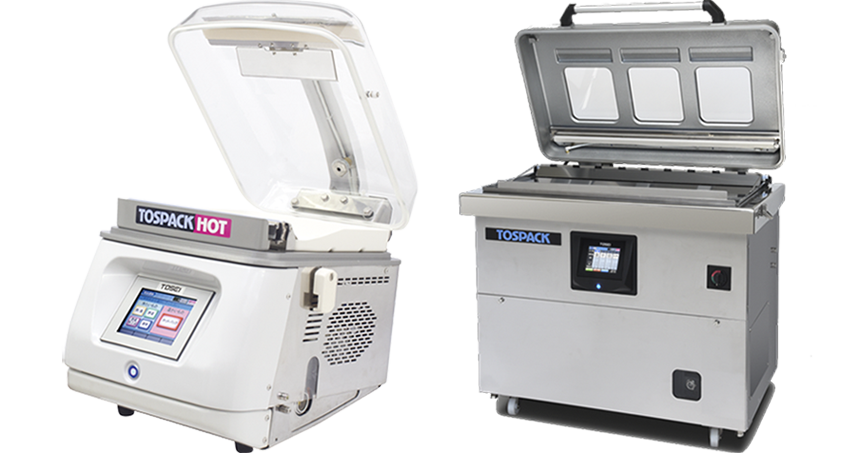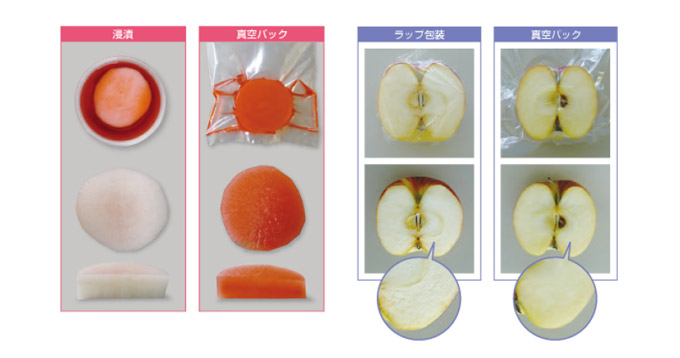 Ways of utilizing the product
This product enables to preserve food for a long time with its anti-oxidation, anti-septic, and dehydration functions.
It enables to deliver food from the central kitchens to distant places without damaging its quality.
It can season inside of the food in an instant.
It can prevent the frost of frozen food.
With its beautiful packaging function, it can manufacture with ease the takeout food, products sold through the Internet, etc.
It can pack hot soup and dishes (side menus) without letting them boiling over.
Its usage for items other than food
Prevention of metal oxidization (rust).
Prevention of contamination with minute particles.
Protection from humidity or moisture.
Examples of cases of its use
It enables to vacuum-pack raw meat to keep it fresh, keeping the edible parts. This dramatically reduces the waste of food materials.
As it has the function of making fruit syrup soaking into the food, it enables sale of dainty dessert products with ease.
It enables to cook a large amount in one place and deliver to distant stores or restaurants.
It enables to manufacture products for delivery without plastic containers, which leads to increased sales.
Cost reduction by bulk purchases of food materials thanks to the function of long-term storage of food.
Personnel cost reduction thanks to its function of eliminating the trouble of cooking and packing.
It enables to produce products with high profit margins, which leads to increased sales.
It protects halal certified food materials or dishes perfectly. They can be stored together with other food materials.
It can safely store industrial products which should not have humidity, rust or dirt.
Food Filling Machine
A filling machine which can be applied to various kinds of food materials.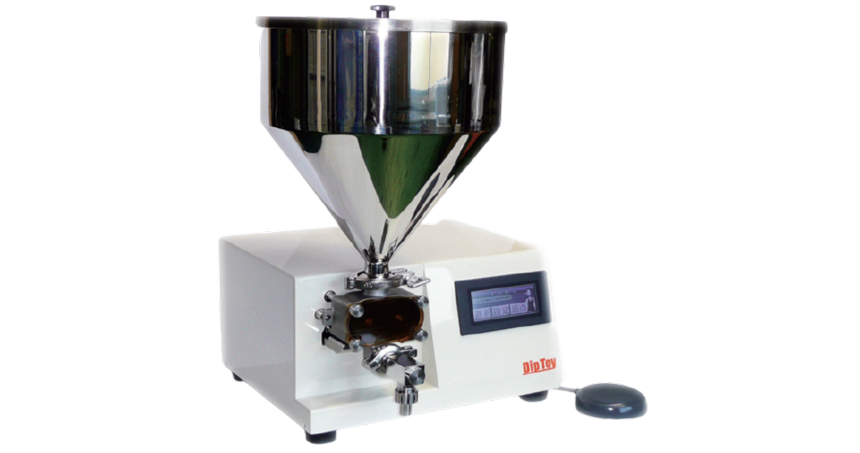 The all-purpose filling machine which can fill any kinds of food with high precision.
It can fill any food easily even if it is highly viscous.
Anybody could fill constantly the same amount into the target places with accuracy.
In addition, its operation and maintenance are simple. As a first step, please feel free to make inquiries to us indicating you want to fill what kind of food into what kind of things.
Examples of cases of its use
Cream, custard, puffs, honey, jam, chocolate, doughnuts, cookies, éclairs and ice cream.
Chocolate manufacturing machine (machine for automatic temperature regulating and stirring)
This can manufacture chocolate, which requires time and effort, with accuracy.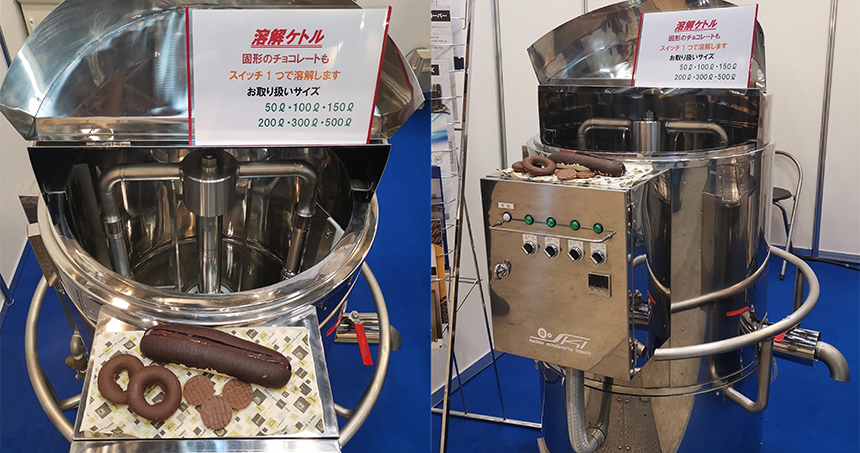 This can manufacture chocolate, which requires time and effort, with accuracy.
This constantly keeps the temperature inside the tank at a certain level, and stir the contents to the every corner of it so as to rapidly equalize the temperature of chocolate.
Beside manufacturing machine, we deal in the machine for chocolate coating. Please contact us.
Long-term freshness preserving system for warehouses
All you have to do is to install this on the wall to keep food fresh and make even more dainty dishes.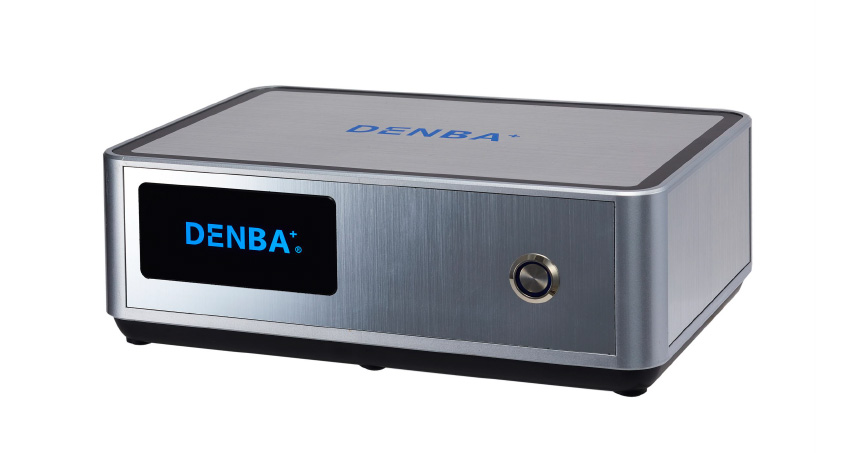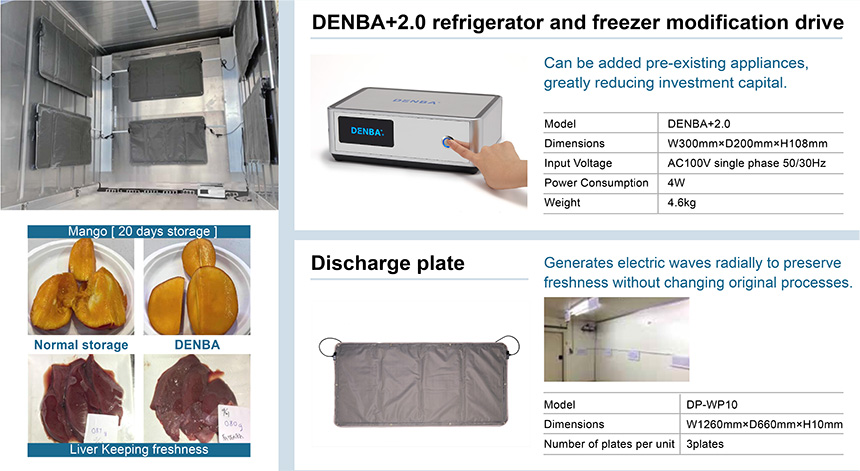 By solely installing this system on the wall, you can keep such food as vegetables, fruits, meat and fish fresh for a dramatically longer period compared with the past. Besides, if applied when thawing the food, you can substantially reduce the drips occurring at the time of thawing and can prepare dainty dishes.
Examples of cases of its use
If you purchase large amount of food in bulk, will be able to store it for a longer period. You can therefore reduce the waste of food materials as well as purchase costs.
The food remains dainty even when being frozen, enabling reasonable price setting.
Metal Catcher
This device catches metallic foreign substances mixed in food in the form of powder or fluid, using super strong magnets of Japanese made.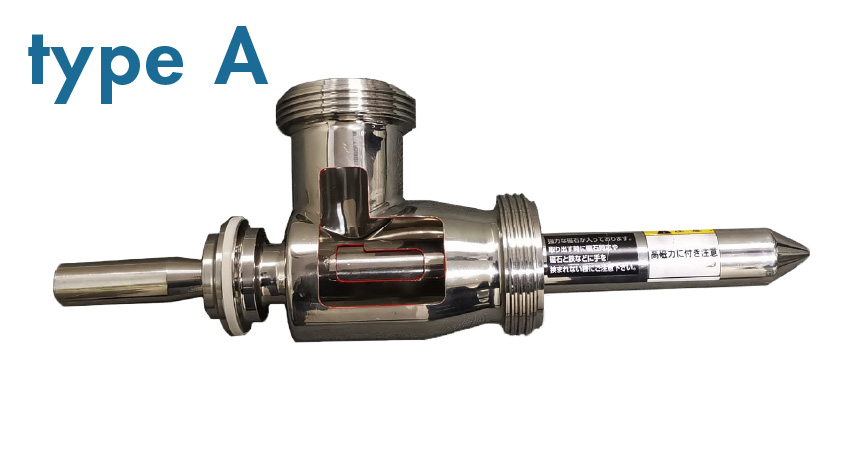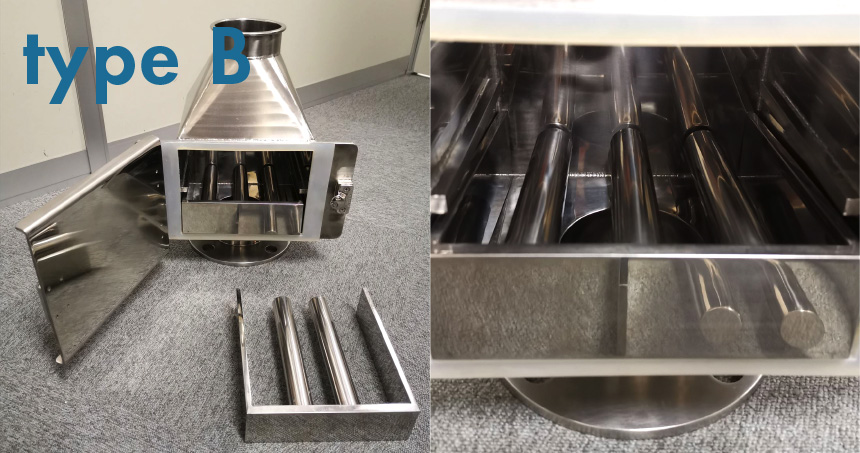 Due to its simple structure without need of power supply, it can be maintained easily. It is much less expensive compared with the mechanical model.
Examples of cases of its use
Powder food: Flour, ground coffee, spice, seasoning, etc.
Fluid food: Juice, Worcester sauce, sake, etc.
Inquiry about the products
Please feel free to contact us if you have questions or wish to ask for consultation.
© RAISEWORLD CO., LTD.